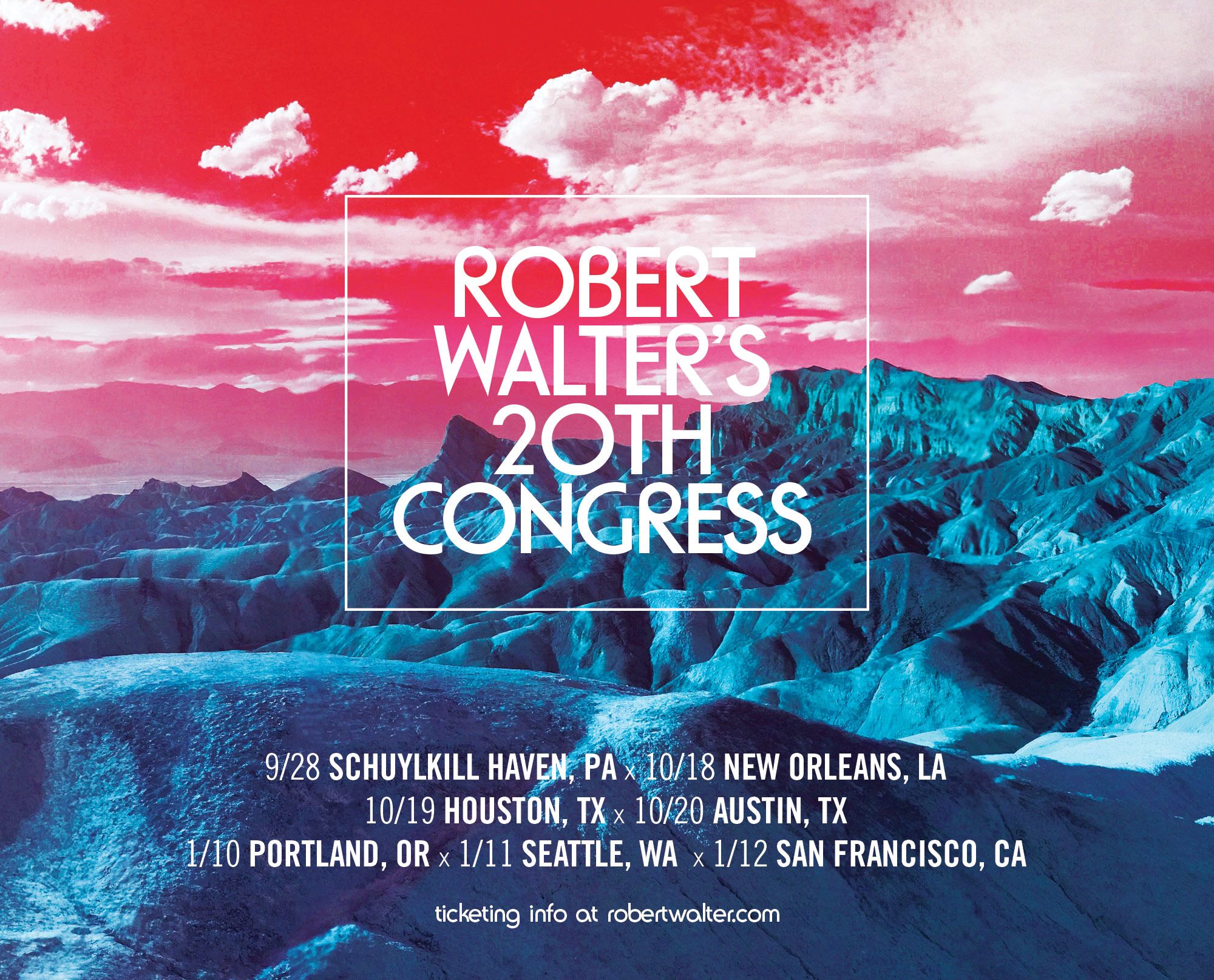 Robert Walter Announces Tourdates And Album Launch !
In support of their new studio album 'Spacesuit' (in stores September 21 via Royal Potato Family), Robert Walter's 20th Congress has announced a handful of dates in the south in October and into next year in the Pacific Northwest.  Tourdates and ticketing details are below. Robert will also perform outside of the 20th Congress mantle at this year's Brooklyn Comes Alive, a one day event hosted at five different venues in Brooklyn, NY. 
The current iteration of 20th Congress includes a crew of brilliant improvisers and genre-bending virtuosos. Drummer Simon Lott (Kool Keith, Charlie Hunter) is a longtime collaborator who brings a refreshing unpredictability anchored in deep-rooted New Orleans rhythms. Bassist Victor Little (Billy Preston, Charlie Musselwhite) started sitting in with the band on a series of West Coast gigs and gradually became essential to the evolving sound. Guitarist Chris Alford (Cassandra Wilson, Mike Dillon) has worked extensively with Lott in New Orleans, bringing a baked-in chemistry that has mutated into the infectious sound of this incarnation of the 20th Congress. 
Their new album was recorded last year and features nine new tracks composed by Walter. Whereas previous 20th Congress albums found Robert delving deep into the wellspring of his most formative influences: hip-shaking vintage soul, window-rattling '60s-'70s funk, and the sounds of classic organ jazz, Walter switched his source of inspiration for this latest effort from digging through the crates to gazing speculatively skyward, imagining new worlds rather than emulating classic records.  
The results lose none of the explosive funk and soul grooves that Walter has become known for, but it takes those sounds into outer space, blending inspiration from science fiction movies, comic books and art with wide-ranging influences encompassing everything from Dub Reggae to Krautrock to early jazz-rock fusion. A Kickstarter campaign for the release of 'Spacesuit' is also underway with various pre-order bundles at kck.st/2sOpvsz 
Tickets are on sale now. For complete ticketing information, please visit robertwalter.com. 
Robert Walter's 20th Congress Tourdates 
September  
9/28 Meeting of the Minds, Schuylkill Haven, PA 
October 
10/18 dba, New Orleans, LA 
10/19 Last Concert Cafe, Houston, TX 
10/20 Antone's, Austin, TX 
January 
1/10 Doug Fir Lounge, Portland, OR  
1/11 Nectar Lounge, Seattle, WA